Lou Malnati's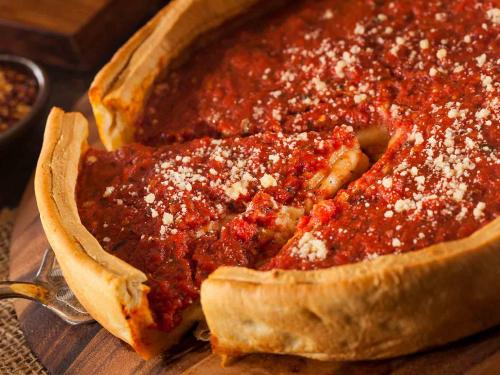 Your visit to Chi-Town simply isn't complete without taking a big bite out of a Chicago deep dish pizza. Serving the legendary local style since 1971, Lou Malnati's Pizzeria has a tradition of pizza making that lies deep (literally!) in Chicago's history.
Lou Malnati started working in Chicago's first deep dish pizzeria in the 1940s and opened his first restaurant with his wife in the northern Chicago suburb of Lincolnwood. Best known for his gregarious personality as well as his tasty pizza recipes, his restaurant became so popular that he decided to open a second location just north of the O'Hare Airport in Elk Grove Village. Despite the challenges of opening this second restaurant, Lou and his family remained strong and have successfully opened 52 Lou Malnati's Chicago locations.
Even though Lou is no longer making the pizzas, his wife and his two sons are ensuring the Lou Malnati's Pizzeria tradition continues strong. Every pizza ordered today is deliciously made with handmade quality, fresh ingredients and a secret family crust recipe that will continue to delight pizza lovers for generations to come.
Giordano's Chicago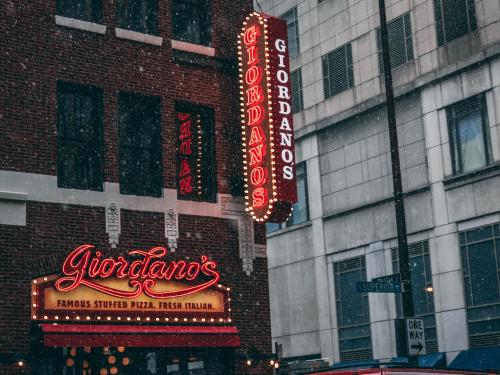 Like fine wine, a good recipe only gets better with time. So how about trying a stuffed pizza recipe that is over 200 years in the making? If the answer is yes, then make Giordano's restaurant a place to visit the next time you're passing through the Windy City. Their heavily guarded family recipe for deep dish Italian pie has earned Giordano's a top spot on numerous "Best Pizza in Chicago" lists, including The New York Times, Chicago Magazine, Chicago Eater, Concierge Preferred, and more.
The secret to the restaurant's success, as they say, is in the sauce. Or maybe it's in the fact that their stuffed pizza is made with a double-crust filled to the brim with savory, melting cheese. Who knows? But what we do know is that two brothers started serving their mama's already famous recipe for "Italian Easter Pie" in 1974, and the family hasn't looked back since. Now with nearly 50 locations in Chicagoland and new locations opening all over the country, it looks like Giordano's will continue perfecting Chicago's deep dish pizza recipe for another 200 years and then some.
Italian Village Chicago
If you know you want Italian food, but simply can't make up your mind about which is the best restaurant in Chicago to visit, head over to the Italian Village. With three restaurants in one location, you simply can't go wrong.
The Village is boasted to be Chi-Town's oldest and most popular Italian Restaurant. Chicago was introduced to an exciting variety of new Italian dishes when it opened its doors in 1927. Today, guests can sample traditional Italian delights from all over the country by choosing from one comprehensive menu.
For a more upscale dining experience, Vivere is located on the main floor of the Italian Village. Chicago locals and visitors alike come here to dine on contemporary cuisine from Italy's finest regions. Delicious hand-crafted pastas with aromatic sauces handed down from generation to generation can be ordered together with a premium Italian wine from the Italian Village's famous cellar. The restaurant also offers a theatre menu, allowing visitors to choose from a selection of Italian dishes at a reasonable price.
La Cantina is the coziest restaurant of the three, serving "Village Classics" in what looks like a private family wine cellar. Open only for dinner and serving a theatre menu with 3 courses, this location is one of the better, more casual Italian restaurants Chicago has to offer.
Now in its third generation of family ownership, the restaurants at the Italian Village are the place to go to when you're craving a wide selection of appetizing Italian food.